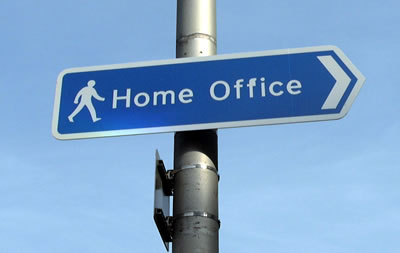 After our wedding, we had to visit the Home Office in Croydon, known as Lunar House. Housed in a 1960s nondescript office building, the Home Office is the mecca for all non-UK citizens who want permission to remain in the country. We arrived bright and early one September morning to find a queue already snaking all the way to the car park. We joined the queue and waited to be filtered into the general direction we needed to go.
I was there to get the Leave to Remain status necessary for my passport and job future. Under the terms of a fiance visa, I was not allowed to work in the UK until we were married. I still harboured hopes of starting up a career in my new country, though what exactly I wasn't sure. It seemed to take hours to make my way to the front. Along the way, I watched and listened to the others shuffling along with me. One Australian girl was taken out of the queue and deported immediately. She'd overstayed her visa, and there was nothing her English boyfriend could do for her.
At last my name was called, but it wasn't me they wanted to speak to -- it was my hubby. I could just about make out the civil servant's question: "Are you satisfied with the marriage?" he asked my husband. I nearly laughed out loud. What an absurd question to ask, I thought. But, bear in mind that these questions are formulated with arranged marriages in mind probably. Fortunately, hubby answered without hesitation in the affirmative. I then got the coveted Leave to Remain stamp in my passport and letter, which is somewhere in the house.
This was it. I truly had made the commitment to stay. Yet as the bleak winter months set in, I had my doubts. And continued to have them into spring. It didn't help that my in-laws weren't speaking to me at all. My social life consisted of going to the pub with hubby and his mates and playing darts. OK for some, but I like female company too. I started going to an aerobics class and met a woman who introduced me to a local American woman. I latched onto this woman like a fox to a chicken. She must have been put off by my desperation because she made it clear she really wasn't interested in friendship with me. However, she did do me a huge favour by suggesting I go along to my local Citizens Advice Bureau and see about volunteering.
All this was supposed to be temporary until some new career came along. Not that I was looking too hard. First, there was our honeymoon to plan. I wasn't allowed to leave the country until I had the Leave to Remain status. Once that was achieved we had to decide where to go. Hubby had always wanted to go to India. I wasn't so sure but wanted to go where Hubby went. So we went to India for three weeks. Two of them were spent travelling around the Golden Triangle -- Delhi, Jaipur, Agra with a small village called Mandawa thrown in. Then we spent a week in Goa, sort of like Florida in the 1950s. While in Goa I got food poisoning very badly and lost 10 pounds in two days. A doctor was called to our room; he gave me an injection, and 45 minutes later I was right as rain.
When we got back from India, I went for my interview at the CAB. The CAB, for those of you who don't know, is a charity that was started as a free and confidential source of advice and information on just about anything from bus schedules to debt counselling to employment tribunals. I thought I'd just be doing some typing, but the manager wanted me to do the full training. The CAB informed my life in so many ways. I liked the idea of people having somewhere to go even for just a chat if that's what is needed.
I don't know if I could have found a better way of getting acquainted with the British way of life. Certainly, I learned a lot about the UK welfare benefits system. Like Child Benefit, which doesn't exist in the U.S. Child Benefit, if you don't know, is a tax-free monthly payment to anyone (regardless of income) bringing up a child. And the difference between Income Support and Jobseekers Allowance. And how being on Income Support gives you the ticket to other free benefits: free prescriptions (which cost £6 something now but were only £4 when I arrived -- that's £4 for every and any drug prescribed, my fellow Americans. I nearly passed out), free school meals, etc.
But I learned about more than benefits. I learned about people. We had our regulars -- lonely elderly people, local alcoholics looking for somewhere warm to rest their feet (till one peed in the waiting room and was banned), mentally ill people on a day out. They could, if allowed, take up quite a bit of time. We weren't a particularly busy bureau when I started so it didn't matter so much, but a new manager changed all that. Our regulars got squeezed out as we started to be more proactive and offer more services. My colleagues were mostly recently retired men and women who wanted to keep their brains active. A few of them took me under their wing and showed me the ropes. For many years the highlight of my week was the two afternoons I spent there. I enjoyed seeing people, looking up information, writing up case sheets, laughing with my colleagues. When I had my daughter, one colleague volunteered his wife to look after the baby one afternoon a week so I could still go to the bureau. They are still very close friends.
But office politics exists even in the voluntary sector. Rumblings started about a loss of funding and merging rival bureaux to save money. One manager left; another took her place, then he left. Another manager came but there wasn't enough money in the pot to pay him so he left. Then a woman I'd started out volunteering with took over. It was one management change too far. With two children in school, I had different priorities and time pressures. I couldn't make all the meetings and training sessions. I didn't want to stay behind to write up my case sheets. I lost the zeal I had felt at the beginning, and if you're a volunteer that's what you're there for. So I left after eleven and a half years. I didn't even get a goodbye card after all that. Oh, I cried that night.
But those years weren't a waste of my time. The CAB was instrumental in helping me settle in to this country. I formed lasting friendships with some of my colleagues. I learned a lot. I gave a lot.